Northern Ireland's highest city
< Republic of Ireland highest |Irish facts index | Ireland's highest city is... >
The cities of Northern Ireland present more difficult criteria when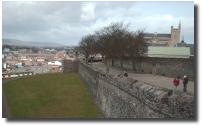 assessing highest points. For example, Newry, made a city in 2002, does not have a traditional city boundary and includes the former borough (county) boundary including the Mourne Mountains! Derry [pictured right] has a city council but its responsibility includes a very wide area beyond the medieval city, including some mountainous ground. Even the competition for the highest post office is not simple. Armagh which, according to their very helpful tourist information office, does not have a main post office but three offices in the city area. Two of them are located in general stores while only the Barrack Street office is a dedicated post office, and we have used this one as the measurement point.
Northern Ireland's Highest General/Main Post Office

1.

Lisburn

43 metres/142 feet

19 Market Square, Lisburn BT28 1AG

2.

Armagh

41 metres/137 feet

28 Barrack Street, Armagh, BT60 1AF

3.

Belfast

8 metres/29 feet

12 - 16 Bridge Street, Belfast, BT1 1LT

4.

Newry

5 metres/19 feet

31 Monaghan Street, Newry, BT35 6BB

5.

Derry

5 metres/18 feet

3 Custom House Street, Londonderry, BT48 6AA
Congratulations to the City of Lisburn who, in our opinion, has the highest city post office in Northern Ireland. In the battle of the highest point within a city or city borough district, Derry would have won this if the competition was held in February 2002 or before. Since Newry became a city in March 2002, and also has a considerable borough district, iit is easily the winner as the table below indicates:
Highest Point within City Limits in Northern Ireland

1.

Newry

850 metres/2789 feet

Slieve Donard, Mourne Mountains, 54°10'48.52"N; 5°55'16.51"W

2.

Derry

667 metres/2190 feet

Sawel Mountain, 54°49'10.83"N; 7° 2'22.14"W

3.

Belfast

478 metres/1572 feet

Divis Hill, 54°36'39.44"N; 6° 1'6.43"W

4.

Lisburn

341 metres/1033 feet

Between Budore and Tornagrough, Co. Down. 54°36'1.72"N; 6° 3'51.59"W

5.

Armagh

86 metres/271 feet

XL Service Station, Newry Road, 54°20'19.24"N; 6°38'25.76"W
Pity the poor council worker who has to climb to the top of Slieve Donard to collect the bins!