< facts 05 | facts index | Northern Ireland's highest city >
Since most of Ireland's cities are situated beside water or sea, the winner of the title "Ireland's Highest City" is not going to be in the clouds! Nor can you set this question in a pub quiz, because there are different answers, depending on the criteria applied. Traditionally in Ireland (and other places I'm sure), the central point of a city is defined as its main/general post office. This is always the location used for point-to-point measurements and records, such as the fastest cyclist between Dublin and Cork. However, I have also considered the highest point of the city within the city limits (being the city's administrative boundary). A further consideration is the adjective 'Irish'; taken in the wider context this will includes the five cities of Northern Ireland, viz. Armagh, Belfast, Derry/Londonderry, Lisburn and Newry, as well as the five cities of the Republic being Cork (pictured),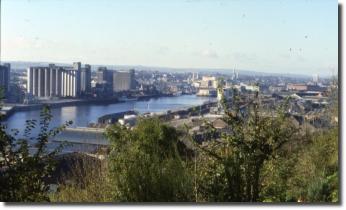 Dublin, Galway, Limerick and Waterford (coming soon). A further complication is the inclusion of Kilkenny, holding an historic city charter and officially recognized as a city by the government, but not always considered genuine by non-Kilkennyites!
For the first part of this survey, I have only considered the cities of the Republic of Ireland; those in Northern Ireland will be posted here soon.
Google Earth provided the height data, supplemented by Irish printed Ordanance Survey maps. Measurements in metres and feet were checked, the latter giving a more accurate reading. The point of measurement for the various post offices is the main entrance, verified using Google Street View.
The various city boundaries are all published online; I have deliberately stuck to modern city boundaries, rather than include county council boundaries.
Republic Of Ireland's Highest General/Main Post Office

1.

Kilkenny

55 metres/185 feet

73 High Street, Kilkenny

2.

Limerick

14 metres/47 feet

Lower Cecil Street, Limerick

3.

Galway

13 metres/38 feet

3 Eglinton Street, Galway

4.

Cork

8.5 metres/30 feet

Oliver Plunkett Street, Cork

4.

Waterford

8.5 metres/30 feet

Custom House Quay, Waterford

6.

Dublin

4 metres/16 feet

GPO, O'Connell Street, Dublin 1.
Did you actually consider Kilkenny? It is an official city although some challenge its ancient city charter. If we didn't consider Kilkenny, it comes as some surprise that Limerick is next on the list - I would have guessed Cork. Cork is joint fourth with Waterford - if anyone can prove which is actually higher, please contact me.
Highest Point within City Limits in the Republic of Ireland

1.

Waterford

78 metres/259 feet

Gracedieu East, 52°15'40.26"N; 7° 9'22.37"W

2.

Galway

71 metres/233 feet

Ballagh, 53°17'30.64"N; 9° 6'10.46"W

3.

Kilkenny

63 metres/212 feet

Corcoran terrace, Walkinslough, 52°38'40.10"N; 7°15'4.82"W

4.

Cork

60 metres/199 feet

Gardiner's Hill, St. Luke's, 51°54'18.55"N; 8°27'27.76"W

5.

Limerick

34 metres/114 feet

Country View, O'Malley Park, 52°38'46.58"N; 8°36'11.18"W

6.

Dublin

29 metres/95 feet

Opposite St Peter's Church, North Circular Road, Phibsborough, 53°21'37.90"N; 6°16'31.94"W
Next page - will those crafty northerners have built their cities on higher ground? The winner will not be Belfast, but could it be the ancient and revered city of Armagh? Can you name the other cities of Northern Ireland?