< previous | sports index | next >
We are very fortunate to have this contribution from expert Irish fisherman Eamon Power; enjoy his tips about fishing in the Dublin area:
"There is some good dryflyfishing around Dublin but transport would probably be a must, especially if you want to get out of the city itself.
In Dublin itself there are good hatches of fly on the Dodder around Rathfarnham, mainly in the evening but in April it is during the day. The river holds a good head of trout in the 4oz to 12oz with the occasional fish over 1.5lbs and the very occasional seatrout.
The Liffey is probably a better river especially aroung Clane/Celbridge, which are just outside Dublin with access by Public Transport. The river has a very healthy stock of trout - 6oz to 1lb - but it regularly produces larger trout as the season goes on and not too long ago it produced a few 5 pounders. A three pounder would be an exceptional fish normally.
These rivers have licencing requirements but they can be puchased very reasonably in Angling retail Outlets.
Flooding does happen in April and can kill the flyfishing for days. The Liffey is also subject to flooding to generate electricity and this would need to be checked in advance.
The shop website is being redesigned and is down at present. The best landmark to get to it for a visitior is very near St Patrick's Cathedral and is only 200yds away up Cork Street.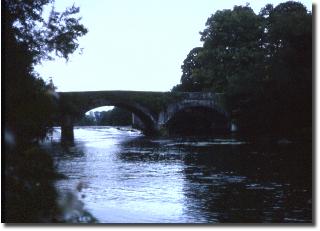 The shop is the largest angling shop in Ireland consisting of about 3000 sq ft.
Shop details are:
Southside Angling Ltd

Southgate

Cork Street,

Dublin 8.

Phone number: (00353) 1 4530266

southsideanglingATeircom.net [replace 'AT' with the usual symbol]
(Picture: River Liffey at Straffan Bridge)
The shop is willing to provide expert advice about the best locations for a specific time of year. They can also organise a guide if required."
Yachting, Cricket, Golf, Rugby (coming...)