< Fern Hours Restauarant review | Dublin pork butchers' database >
Irish sausages - that takes the bacon!
The quality of Irish pork is excellent and its reputation has spread far and wide. In Dublin there were many pork butchers and surprisingly many of them had German origins. Even today, if you ask a Dub what are the best sausages, s/he would probably say "Haffners" or "Olhausens". So who were these families?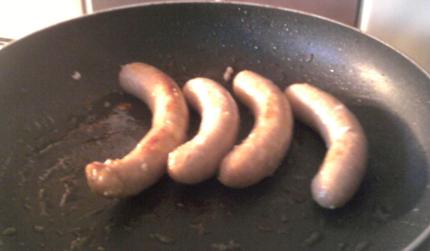 The Haffners had shops at 50 South Great Georges Street and 5 Post Office Buildings, Henry Street. My reliable source tells me that they were Protestant, and most likely Lutherans. Mrs Hafner was apparently widowed relatively early, but her son Charlie (C. T.) took on the business and made it an outstanding success. The family soon moved to one of Dublin's most expensive areas, Ballsbridge, specifically Shrewsbury Road which was some distance from the city centre (but accessible by a good tram system). When Mrs Haffner died, the cortege passed the Georges Street shop where the path was thick with mourners paying their respects. Another German family of note were the Olhausens, who had a butchers in south-central Camden Street and 72 Talbot Street. Also on Camden Street was the Retz (Rudge at 63 Lower Camden Street?) family and my source informs me that there was a certain amount of inter-marrying between the families! While all the shops are long gone, the Hafner and Olhausen name lives on. William Olhausen apparently had property on Strand Road, Sandymount and on Mount Merrion Avenue in leafy Blackrock.
On the north side of the river the Speidel Brothers had a pork butchers at Talbot Street, 21 North Strand Road, 62 and 71 Phibsborough Road and 12 Marino Mart. Nearer to the river but on the south side was 80 Pearse Street where the enigmatic Brenner family had a shop. They worshipped in St. Mark's Church on Pearse Street which in the early twentieth century was a very well-to-do parish church. Other Teutonic-sounding names in the Dublin pork trade included William Stumpf who had a business at 197 Emmet Road, George Stein (with sons) at 139 Capel Street and 54 Parnell Street in the city. Charles Seezer had a butchers at 40 Thomas Street in the west city area, while in gentrified Dun Laoghaire, Herman Horlacher had premises at 72 Lower George's Street and 59 Upper George's Street, while an August Horlacher had a shop in nearby Blackrock on 2c Main Street.
Do correct me or send me additional information if you can. I'm posting this in the hope that it will ignite someone's imagination to do some more serious research on these German families, and how they made a lasting impression on Dublin pork!