In recent years Ireland has produced some racing cyclists of international repute who have had a distinguished career working in mainland Europe. They include Shay Elliot (first Irish Tour de France yellow jersey holder), Sean Kelly (Tour de France green jersey holder four times), Stephen Roche (overall winner of the Tour de France in 1987), Martin Earley and Paul Kimmage. The best-known cyclist to Dubliners is Stephen Roche who hails from Dundrum in the south Dublin suburbs. In 1988 he achieved the rare feat of winning the Giro d'Italia, Tour de France and World Championships in the same year; however, his later career was beset with injury. There is an elegant stonework tribute in the village which can be reached by the 48 bus or the Luas. It is on the main street outside the former site of the shopping centre.
The Shay Elliot memorial (right) is well worth a visit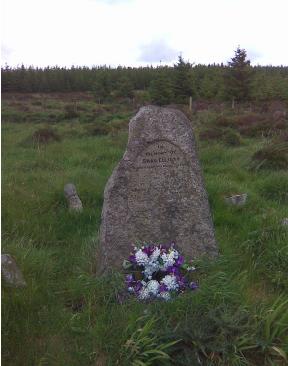 to the Wicklow hills, least of all for the scenery. Drive or take the St. Kevin's bus to Laragh (near Glendalough) and head south on the Rathdrum road for about 1.5 km (over a mile). Turn right at the sign for 'Drumgoff' and the memorial is on the top of the climb, about 6 km from the road junction.
Sean Kelly has a square named after him in Carrick-on-Suir, Co. Tipperary; in recent years he has become active in cycle management and promotion and now helps to sponsor and manage a Belgo-Irish team for young riders. Since retiring from the peleton he has taken part in many charity rides, particularly for Blazing Saddles (cycling for the blind). Kelly's former team mate at PDM Martin Earley, former stage winner in the Tour de France, has a very successful practice as a sports therapist and trainer in Stoke-on-Trent, UK. Paul Kimmage followed a career as a journalist, writing an excellent book recounting his cycling experiences called 'A rough ride'. He revealed widespread drug abuse and was severly castigated by professional cycling at the time. However, his accusations have been given a serious amount of respect following the discovery of drugs in a professional cycling team during the 1998 Tour de France. Ironically, this was the year that the Tour visited Ireland (although the Tour had returned to mainland Europe by the time of the revelations). Kimmage works for the Irish Independent newspaper and is now a respected sports journalist.
With the exception of Shay Elliot, all of the cyclists mentioned are still living today (january 2007).
This site is run by an efficient organisation with many intelligent people at the helm, rather than the usual crackpots you often find in these environmental groups. The DCC has been instrumental in influencing cycle and pedestrian planning in Dublin and is beginning a series of 'critical mass' rides in the city centre. The site also has information about cycle tracks and paths and members can use a discussion list. Recommended.